Frederik Pohl & C. M. Kornbluth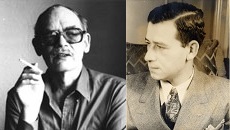 Sometime around February 1952, having sent a finished draft of the novel eventually published as
The Space Merchants
off to Horace Gold at
Galaxy
magazine, Frederik Pohl and C. M. Kornbluth got the news that there was "a kind of hitch" in their plans for the book: it wasn't long enough. Gold needed several thousand additional words to fill up the space he had allotted for the novel, which he was publishing in
Galaxy
as
Gravy Planet
.
Frederik Pohl and C. M. Kornbluth met as teenage members of the Futurian Society, a New York fan group, and their intensely productive friendship was cut short only by Kornbluth's premature death, of a heart attack, at 34. Here, in an April 20, 2009 post from his lauded blog ("The Way the Future Blogs"), Pohl remembers his coauthor.
In 1957, C. M. Kornbluth participated in a lecture series at the University of Chicago featuring leading SF writers.
Radio dramatizations of
The Space Merchants
and four of Frederik Pohl's science fiction stories, plus video of C. M. Kornbluth's "The Little Black Bag" on
Tales of Tomorrow
(1952).
---