Leigh Brackett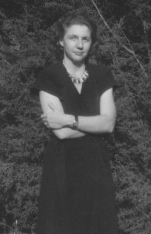 Leigh Brackett Born Leigh Douglass Brackett on December 7, 1915, in Los Angeles, California, the only child of William Franklin Brackett, an accountant and aspiring writer, and Margaret Douglass Brackett. Her father died in 1918 during the flu pandemic and she was raised by her mother and maternal grandparents in Santa Monica, where she attended a private girls' school. Declined a college scholarship because of family financial difficulties. In 1939, joined the Los Angeles Science Fiction Society, meeting Ray Bradbury, Robert Heinlein, Willy Ley, and others; attended gatherings of Heinlein's Mañana Literary Society. Published first story, "Martian Quest," in Astounding Science Fiction in 1940. Her first book, the detective novel No Good from a Corpse (1944), drew the attention of director Howard Hawks, who hired her to work with William Faulkner and Jules Furthman on screenplay of Raymond Chandler's The Big Sleep (released 1946). Busy with this screenplay, she asked Bradbury to complete her novella Lorelei of the Red Mist, and it was published jointly in 1946. The same year, married author Edmond Hamilton; they bought a house in rural Kinsman, Ohio. Remained under contract with Hawks and Charles Feldman for more than two years, and would later earn screenwriting credit for Rio Bravo (1959), Hatari! (1962), El Dorado (1966), Rio Lobo (1970), The Long Goodbye (1973), The Empire Strikes Back (1980, with Lawrence Kasdan), and several works for television. Her first science fiction novel, Shadow Over Mars, had appeared in the magazine Planet Stories in 1944, but did not appear in book form until 1961, as The Nemesis from Terra; similarly, Sea-Kings of Mars was first serialized in 1949 and then published as The Sword of Rhiannon in 1953. In science fiction, she would go on to write The Starmen (1952), Alpha Centauri or Die! (1953; as book, 1963), The Big Jump (1955), and The Long Tomorrow (1955). Also wrote crime novels, Westerns, and other fiction including An Eye for an Eye (1957, later basis for CBS series Markham, 1959–60), The Tiger Among Us (1957; filmed as 13 West Street, 1962), Rio Bravo (1959, novelization of the film), Follow the Free Wind (1963), and Silent Partner (1969). Returned to science fiction themes in The Ginger Star (1974), The Hounds of Skaith (1974), and The Reavers of Skaith (1976). The Best of Leigh Brackett, edited by Edmond Hamilton, was published in 1977. She died of cancer in Lancaster, California, on March 18, 1978.

Leigh Brackett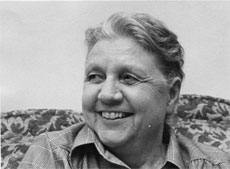 Leigh Brackett looks back at her long and varied literary career in this 1975 interview, conducted at her home in Kinsman, Ohio, just a few years before her death.
Film critic Tony Macklin visited Leigh Brackett "on a hot, humid, blazing July 1975 day" at her farm house in Kinsman, Ohio. "I vividly remember Leigh's making us lemonade to help cool us—it was pure sugar."
---