Algis Budrys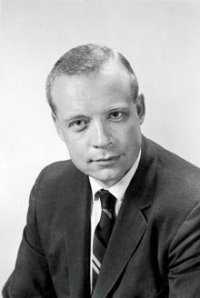 Algis Budrys Born Algirdas Jonas Budrys on January 9, 1931, in Königsberg, East Prussia (now Kaliningrad, Russia), the only child of Jonas Budrys, a Lithuanian diplomat, and Regina Kashuba Budrys, who had worked in the Lithuanian intelligence service. Moved to New York in 1936, his father serving as Lithuanian consul-general. With the Soviet annexation of Lithuania in 1940, the family was rendered stateless; his father became consul-general of the Lithuanian government-in-exile. (Budrys finally took U.S. citizenship in 1996.) Published a fanzine, Slantasy, in 1946, while still in high school. Attended the University of Miami (1947–49) and Columbia (1951–52), interrupting his schooling briefly to work as an investigations clerk for American Express. Published his first story, "The High Purpose," in Astounding Science Fiction in 1952. Began a career as a science fiction editor, working for Gnome Press (assistant editor, 1952), Galaxy (assistant editor, 1953–54); Venture (associate editor, 1957), and Royal Publications (editor, 1958–61). Married Edna F. Duna in 1954, they would have four sons. The same year, published his first novel, False Night (later republished as Some Will Not Die in 1961, restoring material cut from the original edition), followed by Who? (1958; film version 1973), Man of Earth (1958), The Falling Torch (1959), and Rogue Moon (1960). The Unexpected Dimension (1960) gathered some of almost one hundred stories he published during the 1950s. In 1961, moved to Evanston, Illinois, where he became editor-in-chief of Regency Books. Later worked as editorial director for Playboy Press (1963–65), president of Commander Publications (1965–66), reviewer for Galaxy magazine (1965–71), public relations account executive at Young & Rubicam (1969–74), reviewer for The Magazine of Fantasy and Science Fiction (1975–93), and editor and later publisher for Tomorrow Speculative Fiction (1993–2000; beginning in 1997, one of the first online science fiction magazines). Edited eighteen anthologies for the L. Ron Hubbard Presents Writers of the Future series (1985–2007). Along with novels The Iron Thorn (1967), Michaelmas (1977), and Hard Landing (1993), published criticism and other nonfiction in Benchmarks: Galaxy Bookshelf (1985), Writing to the Point (1994), and Outposts: Literatures of Milieux (1996), and several collections of short fiction. Died in Evanston, Illinois, on June 9, 2008.

Algis Budrys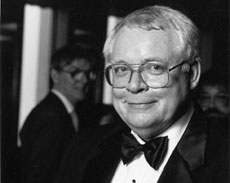 Like more than a few of the 1950s' classic science fiction novels, Algis Budrys's
Who?
began as a short story. He wrote it––he later claimed––having been inspired by a Kelly Freas painting he had seen in the offices of
Fantastic Universe
, and published it in that magazine in April 1955. Here is the original "Who?"
Algis Budrys discusses his novel
Who?
, along with many other subjects, in this interview with Darrell Schweitzer published in
Amazing Stories
in November 1981.
---