Theodore Sturgeon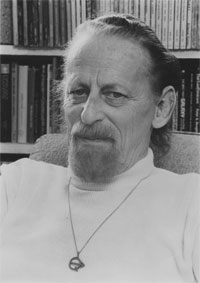 Theodore Sturgeon Born Edward Hamilton Waldo on February 26, 1918, in Staten Island, New York, the second son of Edward Molineaux Waldo, a paint and dye manufacturer, and Christine Hamilton Waldo, a Canadian-born teacher. Name legally changed to Theodore Hamilton Sturgeon at age 11 following his mother's remarriage to William Dickie Sturgeon, who taught at Drexel College in Philadelphia. An unexceptional student who excelled in gymnastics, Sturgeon was stricken at age fifteen by rheumatic fever, ending his aspiration to become a circus acrobat. He entered Pennsylvania State Nautical School but dropped out after one term, shipping out as an engine room laborer on a freighter. During three years at sea, began writing stories and poems. Published crime stories and other short fiction with McClure's newspaper syndicate beginning in 1938. "Ether Breather," his first science fiction story, appeared in Astounding Science Fiction in September 1939. Married Dorothy Fillingame in 1940; they would have two daughters, divorcing in 1945. Published little between 1941 and 1946: managed a resort hotel in the West Indies, sold door to door, organized military mess halls, and operated a bulldozer in Puerto Rico (leading to the 1944 story "Killdozer!"). After returning to New York, became an advertising copywriter and literary agent; worked for Time and Fortune. Won a prize competition sponsored by British magazine Argosy with story "Bianca's Hands" (1947). Was married briefly to singer Mary Mair. In 1951, proposed "Sturgeon's Law" ("Ninety percent of SF is crud, but then, ninety percent of everything is crud"). In 1953, married Marion McGahan, with whom he would have four children. His first story collection, Without Sorcery (1948), was followed by E Pluribus Unicorn (1953), A Way Home (1955), Caviar (1955), A Touch of Strange (1958), Aliens 4 (1959), Beyond (1960), Sturgeon in Orbit (1964), Starshine (1966), Sturgeon Is Alive and Well . . . (1971), The Worlds of Theodore Sturgeon (1972), Sturgeon's West (1973), Case and the Dreamer (1974), Visions and Venturers (1978), and Alien Cargo (1984). His first novel, The Dreaming Jewels (1950), was followed by More Than Human (1953); I, Libertine (1956, under the pseudonym Frederick R. Ewing, in response to a radio hoax by Jean Shepherd, who invented the name and title); The Cosmic Rape (1958); Venus Plus X (1960); the vampire novel Some of Your Blood (1961); and two pseudonymous "Ellery Queen" novels, The Player on the Other Side (1963) and The House of Brass (1968). He also published a novelization (Amok Time, 1978) of one of three scripts he wrote for the television series Star Trek. (Two of these, "Shore Leave" and "Amok Time," aired in 1966–67; the third, "The Joy Machine," was later novelized by James Gunn.) From 1969 to 1974, he lived with journalist Wina Golden; they had a son. He subsequently lived with Jayne Tannehill Englehart. He died of pneumonitis in Eugene, Oregon, on May 8, 1985. His novel Godbody was published posthumously in 1986, followed by a 13-volume Complete Stories (1994–2010). In 2000 he was inducted into the Science Fiction Hall of Fame.

Theodore Sturgeon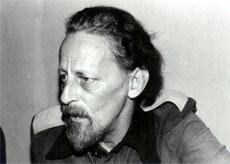 Well received when it was first published in 1953, More Than Human became even more popular as years went by, and in 1978 it was adapted as graphic novel. Sturgeon took the occasion to describe the circumstances in which he wrote the novel.
Audio of Sturgeon reading from
More Than Human
, on 1950s radio program
X Minus One
(1956–57), and video of Sturgeon on
Tales of Tomorrow
(1951).
---