Foreword to The Mind Spider and Other Stories
In 1961, Fritz Leiber gathered six of his "Change War" stories in
The Mind Spider and Other Stories
, a book bound together
tête-bêche
-style (head-to-tail) with
The Big Time
, as an "Ace Double." (The six stories were "The Haunted Future," "Damnation Morning," "The Oldest Soldier," "Try and Change the Past," "The Number of the Beast," and "The Mind Spider.") Here is his foreword to that collection.
Years ago my window at the University of Chicago overlooked the west stands of Stagg Field. One evening I watched a lightning storm playing over the Loop.
Nature was badly off key that night. The thunder didn't rumble or roar. It screamed faintly, four seconds after each flash. I remember thinking that if lightning could twang the rails of Chicago's elevated tracks they might make such a sound. Several other persons heard it and shivered as I did.
Ten years later electronic experts discovered that on rare occasions lightning generates a radio signal which circles the earth and returns to its point of origin as an audible whistle. Maybe that was my scream.
But also ten years later there was built below the west stands of Stagg Field the graphite-dark atomic furnace that first released on earth the energy of the suns. Maybe the molecules felt that coming and screamed a warning.
Either way it's a weird and wonderful world. Just consider: an infinite universe . . . stars that are living hydrogen bombs . . . trillions of atomic worlds in a grain of dust . . . jungles in a drop of water . . . black gulfs of space around each planet . . . black Freudian forests around each conscious mind—you know, I sometimes think the powers that created the universe were chiefly interested in maximizing its mystery.
That's why I write science fiction.

Fritz Leiber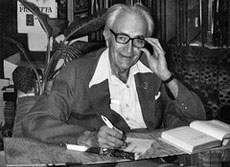 Fritz Leiber remembers how he came to write
The Big Time
in this introduction to the novel, added to a new edition in 1982.
Here are three 1950s radio adaptations of Leiber's stories from the NBC radio program
X Minus One
plus five Change War stories exploring the war between Spiders and Snakes in
The Big Time
.
---